The second phase of Hearing the Voice extends our initial enquiry into voice-hearing into seven new research domains. In addition to shedding light on the relations between hearing voices and everyday processes of sense perception, memory, language and creativity, we are exploring why it is that some voices (and not others) are experienced as distressing, how they can change across the life course, and the ways in which voices can act as important social, cultural and political forces.
Our project will continue to develop new methods for interdisciplinary research into human experience, and transform the way in which voice-hearing is managed, treated and understood through a comprehensive online resource for voice-hearers and mental health professionals, as well as an ambitious arts-led programme of public engagement.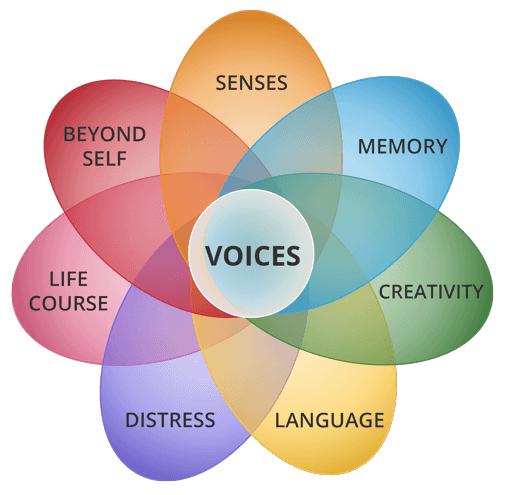 D1 Voices and the Senses
'Voices and the Senses' focuses on the role of sensory experience in voice-hearing. Voices are often thought about as purely auditory experiences, but the ways in which people describe their voices can be subtle, complex and varied – encompassing the five senses and beyond. Our research in this domain explores sensory variation in voice-hearing, embodied experiences, feelings of presence, medieval accounts of multisensory perception, and the impact on voices of growing up with a different sensory experience of the world (as found, for example, in people who are deaf or blind). We also draw upon contemporary understandings of voice-hearing to re-examine models of everyday perception in philosophy and psychology.
Selected Publications
Alderson-Day, B. (2016) The Silent Companions. The Psychologist, vol. 29, 273-275.
Alderson-Day, B. et al. (2017) Distinct processing of ambiguous speech in people with non-clinical auditory verbal hallucinations. Brain, Volume 140, Issue 9, 1 September 2017, Pages 2475–2489.
Alderson-Day, B., Mitrenga, K., Wilkinson, S., McCarthy-Jones, S., and Fernyhough, C. (2018). The Varieties of Inner Speech Questionnaire – Revised (VISQ-R): Replicating and refining links between inner speech and psychopathology. Consciousness and Cognition, 65, 48-58.
Hurlburt, R. T., Alderson-Day, B., Fernyhough, C., and Kühn, S. (2017). Can inner experience be apprehended in high fidelity? Examining brain activation and experience from multiple perspectives. Frontiers in Psychology, 8, 43.
Moseley, P., Alderson-Day, B., Kumar, S., and Fernyhough, C. (2018). Musical hallucinations, musical imagery, and earworms: A new phenomenological survey. Consciousness and Cognition, 65, 83-94.
Saunders, C. (2018) Writing Visionary Experience: Malory's Morte Darthur. In Saunders, C. (ed.), Romance Re-Written: The Evolution and Reception of Middle English Romance. (Boydell and Brewer: forthcoming).
Saunders, C. and Fernyhough, C. (2016) The Medieval Mind. The Psychologist, vol. 29, 880-883.
Waters, F., and Fernyhough, C. (2017). Hallucinations: A systematic review of points of similarity and difference across diagnostic classes. Schizophrenia Bulletin, 43, 32-43.
D2 Voices and Memory
How can research on memory enhance and enrich our understanding of voice-hearing? And how do insights into the links between hearing voices and remembering shed light on typical human memory processes? An important aspect of our research in this area concerns the phenomenology of memory: what it is 'like' to experience an act of remembering. HtV literary scholars are exploring these processes in relation to the writings of Muriel Spark, Samuel Beckett, Virginia Woolf and Charles Dickens. Our psychologists are examining these insights (in collaboration with colleagues in Cambridge) in relation to developments in the cognitive neuroscience of the phenomenology of memory. Research interests in this domain also include the relations between trauma, memory and voice-hearing, the role of resting-state networks in hallucinations, neurostimulation studies of memory-specific brain regions, structural imaging studies of memory-related structures, and several experimental studies on reality monitoring involving international collaborations.
Selected Publications
Alderson-Day, B., Diederen, K., Fernyhough, C., Ford, J., Horga, G., Margulies, D., McCarthy-Jones, S., Northoff, G., Shine, J., Turner, J., van de Ven, V., van Lutterveld, R., Waters, F., and Jardri, R. (2016) Auditory hallucinations and the brain's resting-state networks: Findings and methodological observations. Schizophrenia Bulletin, 42, 1110-1123.
Garrison, J. R., Moseley, P., Alderson-Day, B., Smailes, D., Fernyhough, C., and Simons, J. S. (2017) Testing continuum models of psychosis: No reduction in source monitoring ability in healthy individuals prone to auditory hallucinations. Cortex, 91, 197-207.
Moseley, P., Aleman, A., Curcic-Blake, B., Mitrenga, K. J., Moffatt, J. A., and Fernyhough, C. (2017) Using transcranial direct current stimulation to investigate speech perception: a signal detection study (ongoing).
Waugh, P. (2018) Voice and the phenomenology of listening: Memory, imagination and sound in modern fiction. In A. Snaith (ed.), Literature and Sound. Cambridge University Press: Cambridge.
D3 Voices and Creativity
What are the roles of heard, imagined and inner voices in creativity across media and genres? What does it mean to 'write' and to 'read' a fictional voice? And how does creativity feature in voice-hearers' ways of understanding, relating to and coping with their voices? Research in this domain examines the role of voice-hearing in the creation of fictional worlds, exploring its intersections with and divergences from other accounts of the experience of hearing voices. The writing of Virginia Woolf, Samuel Beckett, Muriel Spark and Charles Dickens is central to our narratological, literary, historical and cultural-theoretical investigations, which seek to understand how literary texts illuminate and indeed model processes of imagination, memory and perception.
Selected Publications
Alderson-Day, B., Bernini, M. & Fernyhough, C. (2017) Uncharted features and dynamics of reading: Voices, characters, and crossing of experiences. Consciousness and Cognition 49: 98-109. See accompanying article in The Guardian.
Bernini, M. (2019) Beckett and the Cognitive Method: Minds, Model and Exploratory Narratives. (Oxford University Press: forthcoming).
Bernini, M. (2016) The Opacity of Fictional Minds: Transparency, Interpretive Cognition and the Exceptionality Thesis. In Garratt, P (ed.), The Cognitive Humanities: Embodied Mind in Literature and Culture. Palgrave Macmillan: Basingstoke. 35-54.
Foxwell, J. (2018) The Phenomenology of Hallucinatory Experience in Mid-Twentieth-Century Fiction. (PhD thesis: forthcoming).
Waugh, P. (2018) Listening in the Queer Zone: Woolf among the Voice Hearers (forthcoming).
D4 Voices Language and Communication
Many voice-hearing experiences appear to have little that is auditory or 'voicey' about them, requiring a move away from a narrowly sensory-perceptual framework to one that explores how voices function as communicative acts from social agents. What do voices say? How can we understand voice-hearing experiences as context-dependent forms of utterance, communication and storytelling? And what are the implications of this for different forms of therapy? To answer these questions, we are bringing approaches from linguistics, particularly pragmatics and conversation analysis, to bear in the analysis of therapies which focus on voice-hearer's relationships and interactions with their voices. Studies of relating therapy, avatar therapy, voice dialogue and 'talking with voices' are being pursued in collaboration with colleagues from Sussex, King's College, UCL, Lancaster, and Maastricht and through a working group of the International Consortium on Hallucinations Research. A second major strand of research in this domain asks how the experience of hearing spiritual voices, whether divine or demonic, differs within and between faith communities and across historical periods. Our research examines the messages heard and communicated in visionary and voice-hearing experiences central to the Christian mystical tradition and in the founding of the Mormon Church.
Selected Publications
Alderson-Day, B. and Jones, N. (2018) Understanding Avatar Therapy. The Lancet, vol. 5, 2-3.
Alderson-Day, B. and Fernyhough, C. (2016) AVH: Social but how? Journal of Consciousness Studies, vol. 23 7-8.
Cook, C. (2019) Christians Hearing Voices (Jessica Kingsley: forthcoming).
Deamer, F. and Hayward, M. (2018) Relating to the Speaker Behind the Voice: What is changing?. Frontiers in Psychology, vol. 9, 1-8.
Wilkinson, S. and Bell, V. (2016) The Representation of Agents in Auditory Verbal Hallucinations. Mind and Language, vol. 31, 104-126.
D5 Voices, Emotions and Distress
Why are some voices experienced as distressing whilst others are not? Our research in this domain explores the connections between voices, emotions and distress in different populations, situations and cultural and historical contexts. We are also examining the links between trauma, post-traumatic stress disorder and hearing voices; exploring notions of crisis, risk and recovery in relation to voice-hearing; and investigating the way spirituality and religion function in relation to distressing voices. Our research draws on the expertise of voice-hearers and clinicians, as well as researchers in theology, literature, history and psychology.
Selected Publications
Series of three articles in Church Times by C. Cook (2017):
Saunders, C. (2018) The Mystical Theology of Margery Kempe: Writing the Inner Life. In Cook, C. C. H., Mclean, J. & Tyler, P. (eds.) Mystical Theology and Contemporary Spiritual Practice. Routledge: London. 34-57.
Saunders, C. & Fernyhough, C. (2017) Reading Margery Kempe's Inner Voices. A Journal of Medieval Cultural Studies, 8, 209-217.
Saunders, C. (2015) Hearing Medieval Voices. The Lancet 386, no. 10009, 2136–2137.
Woods, A. (2017) On Shame and Voice-Hearing. Medical Humanities, 43, 251-256.
D6 Voices Across the Lifecourse
How do voices change over time? Do they have a different significance depending on when in life they occur? In this domain, we are interested in the way in which voice-hearing is shaped by personal, social and cultural acts of meaning-making that change over time and in response to different life events, therapy and peer support. Central to our work in this area is a three-year 'Voices in Psychosis' longitudinal study, which is gathering phenomenological, cognitive and neuroimaging data on a sample of individuals entering Early Intervention in Psychosis services. We are also working with volunteers from spiritualist communities to explore the phenomenological, cognitive and neural correlates of their clairaudient experiences. Other projects include studying hallucinations in older adults, a study of voice-hearing in postpartum psychosis, an international working group on hallucinations in children and young adults, and empirical work on children's imaginary friends.
Selected Publications
Firth, L., Alderson-Day, B., Woods, N., and Fernyhough, C. (2015) Imaginary companions in childhood: Relations to imagination skills and autobiographical memory in adults. Creativity Research Journal, 27, 308-313.
Maijer, K., Hayward, M., Fernyhough, C., Calkins, M. E., Debanné, M., Jardri, R., Kelleher, I., Raballo, A., Rammou, A., Scott, J. G., Shinn, A., Steenhuis, L. A., Wolf, D. H., and Bartels-Velthuis, A. A. (in press). Hallucinations in children and adolescents: Current knowledge and future directions. Schizophrenia Bulletin.
D7 Voices Beyond the Self
Our work in this domain takes a widespread assumption – that voices are internal and private; exist in an individual's mind or brain, and so are inaccessible to others – and turns it on its head. How can voices be understood as interpersonal or collective experiences? How do experiences of voice-hearing, and the frameworks used to make sense of them, reinforce and disrupt distinctively modern and arguably 'Western' conceptions of the self? And how do voices and voice-hearing come to have varying degrees of agency within specific personal, cultural, religious, clinical and academic contexts? A major focus of our work in this area is theological, spiritual and religious contributions to the understanding of voice-hearing, particularly within the Judeo-Christian tradition. We are producing in-depth analyses of historical and textual accounts of voices heard by saints, mystics and religious leaders (particularly Joan of Arc, Margery Kempe and founders of the Mormon Church), while also conducting empirical studies of voice-hearing experiences reported by people in contemporary faith communities. Looking to other spiritual practices and traditions, we are exploring the significance of voices within ayahuasca rituals using ethnographic and neuroscientific methods. Our work in cultural theory, media studies, and the cognitive and medical humanities will seek to understand voice-hearing as a form of distributed cognition. Their agency and potent transformative potential within particular social networks and relationships, including the Hearing Voices Movement, will also be explored.
Selected Publications
Cook, C. (2019) Spirituality, Theology and the Hearing of Voices (working title) (Routledge: forthcoming).
Dupuis, D. (2017) De la liane à la croix. Transformations institutionnelles, innovations rituelles et socialisation des hallucinations dans un centre chamanique d'Amazonie péruvienne, Archives de sciences sociales des religions, 178, 279-296.
Powell, A. (2018). 'The Hearing Voices Movement as Postmodern Religion-Making: Meaning, Power, Sacralisation, Identity,' Implicit Religion, 20 (2).
Waugh, P. (2018) Job and the realists: Muriel Spark, truth and the paradoxes of delusion. Textual Practice (forthcoming).