Hearing the Voice was a large interdisciplinary study of voice-hearing, based at Durham University and funded by the Wellcome Trust.
Our international research team, directed by Charles Fernyhough (PI) and Angela Woods (Co-director), included academics from anthropology, cognitive neuroscience, history, linguistics, literary studies, medical humanities, philosophy, psychology and theology. We also work closely with clinicians, voice-hearers and other experts by experience.
There were two distinct phases of our research. The first phase of our project, which ran from 2012 to 2015, was funded by a Strategic Award from the Wellcome Trust. In October 2015, we received a Wellcome Trust Collaborative Award in Humanities and Social Science which enabled us to continue our research into voice-hearing until 2022.
PHASE ONE RESEARCH QUESTIONS
2012–2015
The first phase of our project set out to address five key research questions:
What is it like to hear voices?
What do voices mean to people? That is, how do we interpret the experience?
What happens in the brain when people hear voices?
How can we help people who are distressed by their voices?
How should we study human experiences such as voice-hearing?
Corresponding to these research questions, Phase One was divided into five different work packages: 1) Phenomenology, 2) Hermeneutics, 3) Cognitive neuroscience, 4) Therapeutic practice and 5) Methodology.
More information and research outputs from each of these work packages can be found here.
The second phase of Hearing the Voice extended our initial enquiry into voice-hearing into seven new research domains. In addition to shedding light on the relations between hearing voices and everyday processes of sense perception, memory, language and creativity, we explored why it is that some voices (and not others) are experienced as distressing, how they can change across the life course, and the ways in which voices can act as important social, cultural and political forces.
Our project developed new methods for interdisciplinary research into human experience, and transformed the way in which voice-hearing is managed, treated and understood through a comprehensive online resource for voice-hearers and mental health professionals, as well as an ambitious arts-led programme of public engagement.
More information about Phase 2 can be found here.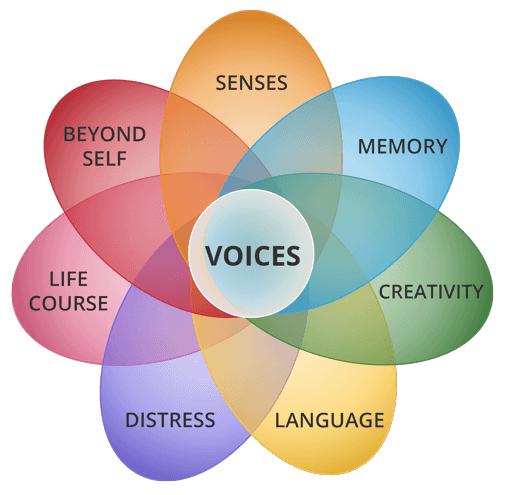 PHASE TWO RESEARCH DOMAINS
2015–2020