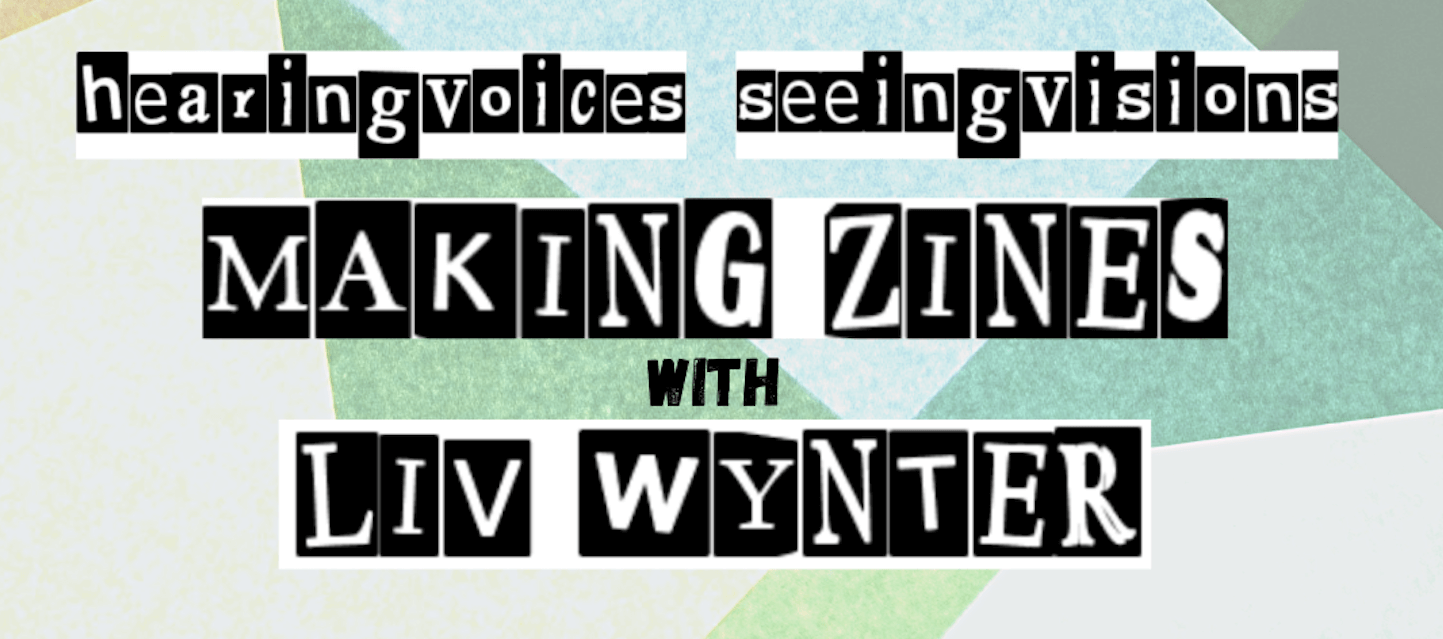 HEARINGVOICES/SEEINGVISIONS/MAKINGZINES
Digital zine workshops w/ Liv Wynter and Voice Collective
Do you want to help people understand what it is like to be a young person who hears, sees, or senses things that others don't?
Join artist Liv Wynter for a series of online zine-making workshops to explore experiences of hearing voices and seeing visions! Open to anyone aged 16-25 with lived experience of voice-hearing. No artistic skills necessary!
The digital zines we make at the workshops will be shared on Understanding Voices ­– a website containing information about different ways of understanding voices and supporting people who are struggling to cope.
It's an opportunity to …
Share your story
Explore how voice-hearing intersects with other aspects of who you are
Meet other young people who hear voices
Make some zines!
When are the workshops on?
We'll make the zines over four workshops taking place on Zoom, an online meeting platform. The workshops will take place on:
Thursday 9 September 2021, 6.30–8pm (BST)
Thursday 16 September 2021, 6.30–8pm (BST)
Thursday 23 September 2021, 6.30–8pm (BST)
Thursday 30 September 2021, 6.30–8pm (BST)
Whether you're new to Zoom or an old hand at digital workshops, we'll make sure everyone is fully supported to take part.
What can I expect at the workshops?
Expect to find a space where your voice and creativity is engaged, encouraged and invited. Over the four days we'll be considering how different aspects of our identity affect our experiences of hearing voices. We'll make creative pieces exploring our own experiences, the stories of our community, the oppressions we and others may face and how we can stand in solidarity with each other – or how others can stand in solidarity with us.
Who's running it?
Liv Wynter is a playwright, artist, performer, community organiser and avid zine maker! Liv has been facilitating workshops, particularly art ones for marginalised communities, since 2015. For the last 1.5 years, Liv has been working as a peer support organiser at Hearts & Minds. Liv is a firm believer in 'nothing about us without us' and looks forward to sharing their lived experiences of hearing voices and seeing visions with their peers (that's you!) during this workshop process.
Who will be at the workshops?
Liv (the artist facilitator), Fiona Malpass from Voice Collective (a London based organisation that supports young people who hear, see or sense things others don't) and approximately 10 young people.
Who else is involved?
This project is a collaboration between Voice Collective and Hearing the Voice.
Hearing the Voice is a research project based at Durham University and funded by the Wellcome Trust. You can find out more about the project's previous creative work with young people here: Listen Up!
Is there a cost to attend?
No. The workshops are fully funded by a prize awarded to Hearing the Voice by the Arts and Humanities Research Council to explore different ways of telling stories about voice-hearing.
What about materials?
We have £50 Cass Arts vouchers to give away to all workshop participants to make sure you have everything you need to take part.
Will I need to talk about my voices/visions at the workshops?
Although in the workshops we will welcome conversations about voices, visions and other sensory experiences, there's absolutely no pressure or obligation to discuss them. We understand that it can be difficult to talk about things that you are dealing with, so if we can support you with this is any way, please do let us know. You can portray your experience in any way that you feel comfortable with in your zine.
What about confidentiality?
The zines produced in the workshops will be shared publicly on Understanding Voices but there's no need to share your real name if you don't want to. They can be anonymised or published under a pseudonym. What happens in the workshops stays between the participants – sessions won't be recorded or shared with others. It's also OK to change your mind about participating half-way through. If you'd like to have a conversation about this in more depth, please contact Liv.
Do I need to live in the UK to be part of this?
No. The workshops are open to anyone with an interest but they'll take place in English and all times are British Summer Time (BST).
How can we support you to take part?
We want to ensure that young people of different genders, sexual orientations, (dis)abilities, ethnic and religious backgrounds all feel welcome in these workshops and supported to create zines about their experiences. If there is anything we can do to help you to participate, please let Liv know.
 I'd like to participate. What do I do?
To register an interest in taking part and tell us a bit more about yourself, please fill in this form: Zine workshop form. Registration is now closed, but if you'd like to participate please contact Victoria Patton to explore options for taking part.
If you have any questions about the workshops, feel free to get in touch with Liv.