We are delighted to welcome Dr Tehseen Noorani to Hearing the Voice as a Junior Research Fellow with HtV and the Department of Anthropology. Tehseen is an interdisciplinary medical humanities scholar, with a PhD in Socio-Legal Studies from the University of Bristol and a Postdoctoral Fellowship in Drug Dependence Epidemiology from Johns Hopkins School of Public Health. He is a co-founder of the Authority Research Network. He writes,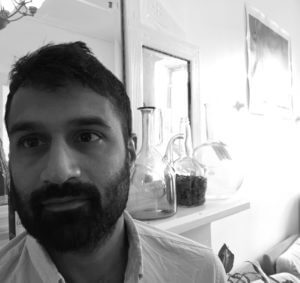 I'm delighted to join Hearing the Voice and look forward to learning a lot over the next eighteen months. In my PhD I documented how mental health self-help groups use practices of self-experimentation to aggregate collective knowledge in relation to augmenting both extreme mental distress and the effects of psychiatric medication. For my postdoc, I turned to sites where individuals purposefully seek out extreme experiences through the use of psychedelic drugs, working from 2013-2015 with a team of scientists at Johns Hopkins administering psychedelics in clinical trials with therapeutic targets. In subsequent lecturing positions at New York University and the University of East London, I have taught on psychopharmacological science, illicit psychedelic drug experimentation and post-psychiatric social movements, situating these 'consciousness cultures' in the context of medicalisation, Big Pharma and the global War on Drugs.
For my Fellowship, I will be completing a monograph provisionally entitled 'Psychedelic Science in the Age of Post-Psychiatry', on the resurgence of scientific research into psychedelic drugs and the implications of this for how we engage with psychosis. The book reviews the long-standing 'model psychosis theory' in order to propose a set of phenomenological and socio-cultural dimensions along which psychedelic and psychotic experiences might fruitfully inform one another. In particular, I will look at key figures, spaces, modes of pedagogy and the uptake of interest in spirituality across these consciousness cultures. I will synthesize my PhD and postdoctoral research, while supplementing the ethnographic data I have gathered so far with field trips in Europe and North America. Working closely with the Hearing the Voice team enables me to be in conversation with an unparalleled trove of expertise on the phenomenologies and practices of working upon psychosis – rich dialogues that are well underway here, bridging across epistemological paradigms, historical epochs, places and spaces. Just as exciting, Hearing the Voice is a welcoming home for thinking through the thorny challenges of effective interdisciplinary collaboration. I'm raring to go!