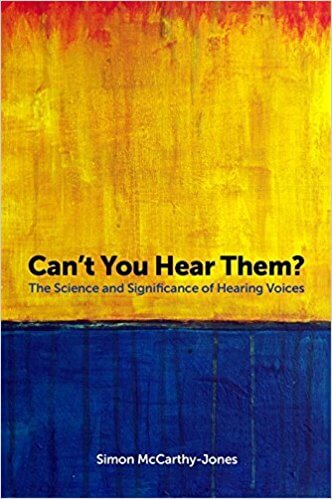 Hearing the Voice is delighted to announce the publication of HtV team member Simon McCarthy-Jones's new book Can't You Hear Them? The Science and Significance of Hearing Voices. A must-read for anyone with an interest in the links between trauma and voice-hearing, our biology and voice-hearing, and those looking for a critical perspective on traditional ways of approaching voice-hearing, it is available to purchase on Amazon here.
"A remarkable book about voice hearing, which provides an accessible account of the science, but does not lose track of the meaning of the experience. It is compassionate, controversial and compelling!"
Prof Christopher Cook
"On finishing this book my initial instinct was to re-read it in order to appreciate its insights for a second time. Can't You Hear Them? is not only a work of impressive scholarship but a compelling, beautifully-written story of human experience and endeavour."
Dr Eleanor Longden
"A brilliant and thoughtful travel into the complex experience of hearing voices. Superbly written, with intelligence, but also a delightful sense of humour, this book will become an indispensable addition to the bookshelves of clinicians, scientists and people who hear voices."
Prof Renaud Jardri
"An engaging enquiry into the psychology and neuroscience of voice hearing that explores hallucinated voices in all their fascinating forms."
Dr Vaughan Bell
"With rigorous science, penetrating analyses, colourful and enjoyable prose, and an astonishing breadth of knowledge – Simon McCarthy-Jones has delivered a book that will undeniably be appreciated by many."
Dr Frank Laroi
Simon McCarthy-Jones is an Associate Professor in the Department of Psychiatry at Trinity College Dublin. You can read more from him by following his two blogs –  This Month in Voices, which offers a monthly summary of the latest in voice-hearing research, and his more occasional blog on a wide range of issues relating to hearing voices, trauma and life.