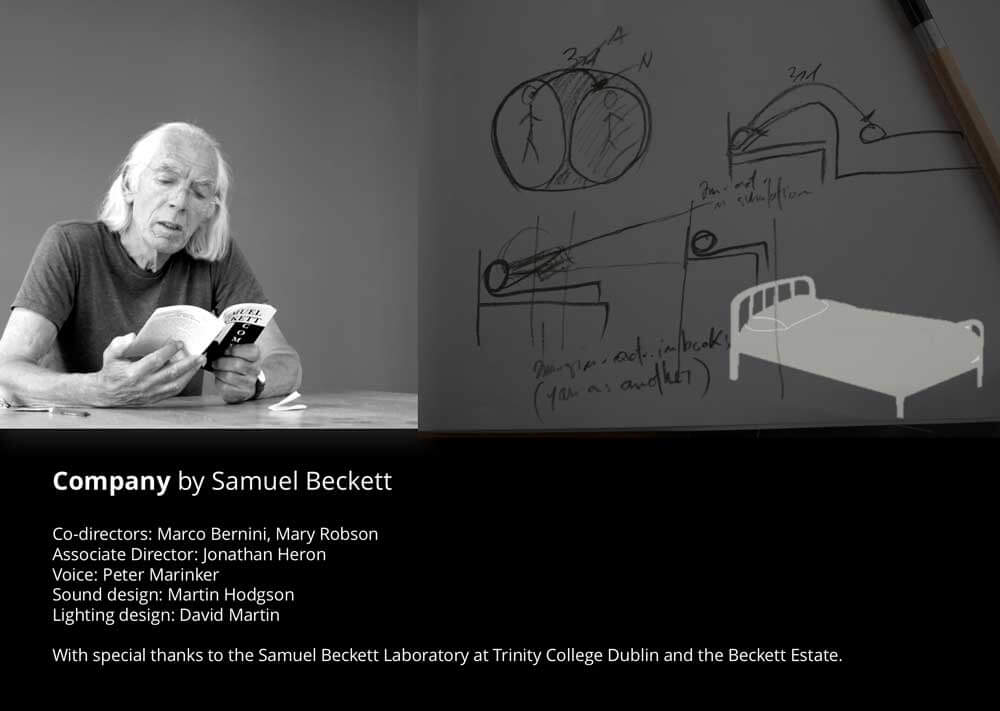 Company by Samuel Beckett
co-directed by Marco Bernini and Mary Robson
Chapel of the Holy Cross, Durham Cathedral
Palace Green, Durham
DH1 3EH
16-20 January 2017
Daily performances: 3pm, 5pm and 7pm
Hearing the Voice is delighted to announce that experiential audio performances of Samuel Beckett's Company will take place in the Chapel of the Holy Cross in Durham Cathedral from 16 to 20 January 2017.
Both moving and mysterious, Beckett's Company is the story of a voice that comes 'to one on his back in the dark'. This voice, which the protagonist can neither verify or name, 'tells of a past'. In a performance of the text that is at the same time immersive and exploratory, the audience are invited to become the central character in this enigmatic story world.
Marcel Proust, on which Beckett wrote an essay in 1930, defined the experience of lying in bed before falling asleep as a 'relaxation of consciousness', sometimes triggered by the reading of a novel. This is a moment in which imagination takes over and the Self becomes liquid, malleable and multiple. Inspired by this liminal image of relaxation, we will ask each member of the audience to lie in one of the nine beds we have placed in the chapel. The illumination will go off, and the voice of Company will address them – synesthetically paired, as Beckett's text suggests, with a pulsing sourceless light. Imagine.
Performances will take place daily at 3pm, 5pm and 7pm in the darkened Chapel of the Holy Cross.
All welcome. Places at these free events are limited to nine people per performance, so early booking is essential.
Reservations via Eventbrite here.
Co-directors: Marco Bernini, Mary Robson
Associate Director: Jonathan Heron
Voice: Peter Marinker
Sound design: Martin Hodgson
Lighting design: David Martin
With special thanks to the Samuel Beckett Laboratory at Trinity College Dublin and the Beckett Estate.
Please note that 'Voices, knowledge and ignorance: Reflections on experiences of Company', a roundtable discussion in which Peter Marinker, Jonathan Heron and Marco Bernini join other Beckett specialists to explore their own reactions to the performance, will take place in St Chad's College Chapel, Durham on 20 January 2017 at 12-2pm. More information about this event and instructions on how to register is available here.
---

The performances of Beckett's Company are part of the linked programme of activity that surrounds Hearing Voices: suffering, inspiration and the everyday – the world's first exhibition to examine voice-hearing from personal, scientific, literary and theological perspectives.
The exhibition is now on show at Durham's Palace Green Library until 26 February 2017. It is supported by a dedicated website, which contains images of the key displays, podcasts containing interviews with Hearing the Voice researchers, interactive presentations and links to articles and other useful resources.
Of particular interest to Beckett fans will be the online resources on literary voices, including an audio feature in which Pat Waugh, Peter Garratt and Marco Bernini explore the connection between hearing voices and literary creativity, and the representation of voice and voice-hearing in the work of Virginia Woolf, Charles Dickens and Samuel Beckett.