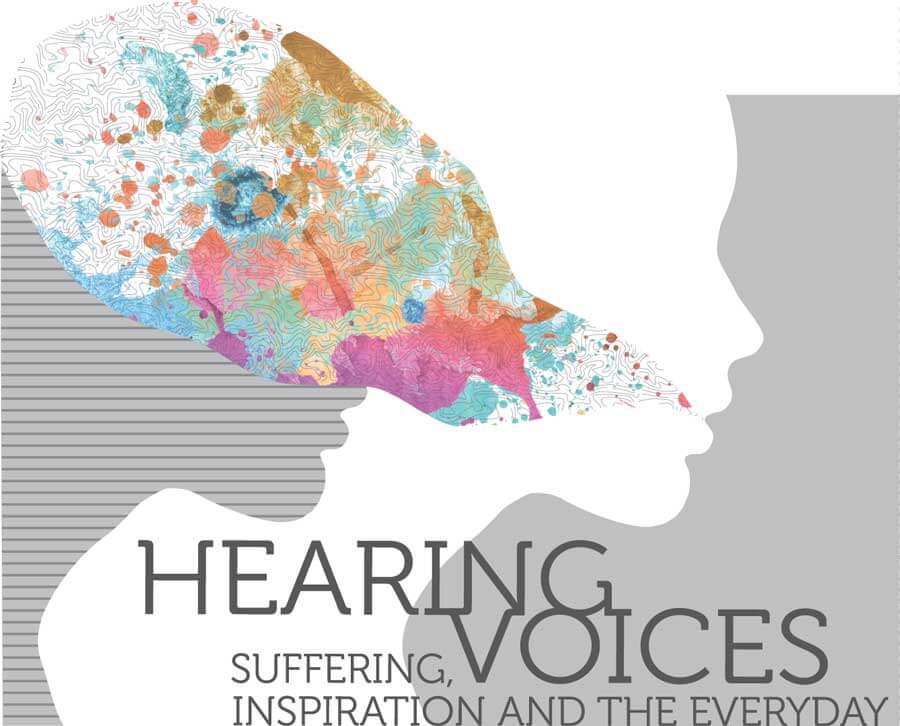 'Who can speak about voices?'
Palace Green Library Café
Palace Green
Durham DH1 3RN
16 November 2016
5pm – 7pm
Join our panel of experts for a lively discussion of the politics and ethics of representing unusual and often stigmatised experiences.  Facilitated by Dr Angela Woods, Senior Lecturer in Medical Humanities at Durham University and Co-Director of Hearing the Voice.
About the panellists:
sean burn is a writer, performer and artist
Mary Robson is the producer of a number of short films on voice-hearing, including Adam Plus One and Believe Brian. She is also the co-facilitator of Listen Up! – a series of creative workshops in Leeds, Bradford and Durham for young people who hear voices. The workshops resulted in artworks challenging the stigma associated with hearing voices which are on display in our exhibition.
Dr Victoria Armstrong is CEO of Disability North and convenor of Mad Studies North-East.
Dr Helen Spandler is a Reader in Mental Health and the University of Central Lancashire and editor of Asylum magazine.
This event is free but places are limited so booking is essential. You can reserve tickets here.
This event will be preceded by a guided tour of the exhibition followed by a screening of Believe Brian and In the Real at Durham's Empty Shop. Please book tickets for the guided tour, networking event and film screening separately if you would like to attend. For more information please see the events programme on the exhibition website.
Further information
This event is part of the linked programme of events around Hearing Voices: suffering, inspiration and the everyday, a major exhibition on voice-hearing produced by Hearing the Voice and Palace Green Library.
The exhibition will be installed at Palace Green Library, Durham, UK from 5 November 2016 to 26 February 2017.
About Hearing Voices: suffering, inspiration and the everyday
Hearing a voice in the absence of any speaker is one of the most unusual, complex, and mysterious aspects of human experience. Typically regarded, as a symptom of severe mental disorders such as schizophrenia, voice-hearing is increasingly recognized as an important part of many people's lives and experience, as well as a phenomenon that has had profound significance, not only for individuals, but across communities, cultures, and history.
From the revelatory and inspirational voices of medieval mystics to those of imaginary friends in childhood, and from the inner voices of writers as they craft their characters to the stories of people from the international Hearing Voices Movement, this exhibition will explore the complexity and diversity of the experience and interpretation of voice-hearing.
This exhibition draws on the work of Hearing the Voice, a large interdisciplinary study of voice-hearing based at Durham University and funded by the Wellcome Trust.
Hearing Voices: suffering, inspiration and the everyday is installed at Palace Green Library from 5 November 2017 to 26 February 2017.
For more information about the exhibition please see the exhibition website.