As part of the preparatory work for our forthcoming exhibition on voice-hearing at Durham's Palace Green Library (November 2016 – February 2017), Hearing the Voice has produced Listen Up! – a series of creative workshops in Bradford, Leeds and Durham specifically for young people who hear voices, see visions or have other unusual sensory experiences. Facilitated by our collaborator Rachel Waddingham and our creative facilitator Mary Robson, the participants in the workshops are creating an artwork that challenges the stigma associated with voice-hearing and which will go on display in the exhibition space.
In this blog post, one of the participants, Imogen, reflects on what contributing to Listen Up! means for her. The post was originally published on Imogen's blog 'The Upside Down Chronicles' on 11 August, and she has kindly given us permission to reproduce it here. Imogen writes:
Recently I have been on a mission to find other people, particularly young people, who see visions and hear voices like I do. It was while Googling for voice hearing and the arts that I came across Hearing the Voice. It just happened that in browsing the site I found that they have been running workshops in order to create an art exhibition called "Hearing Voices: suffering, inspiration, and the everyday" at Durham University. They are aiming to create two cases for the exhibition- one of young people's experiences of voice hearing and vision seeing and another of what young people would like others to know about these experiences. All of this will be portrayed through the arts.
So to Leeds I went and (joyously dodging roadworks) I arrived at Artlink. The two co-ordinators were lovely ladies; Mary Robson (a creative facilitator) and Rai Waddington (who has experience of voice hearing and provides training on the subject). There were also two other young participants and, funnily enough, one had travelled all the way from my home city! The other two girls had also been to the workshop previous but were incredibly welcoming. The group started with a discussion on what hearing voices is like and the unhelpful things people have said to us as voice hearers in the past. The notes speak for themselves.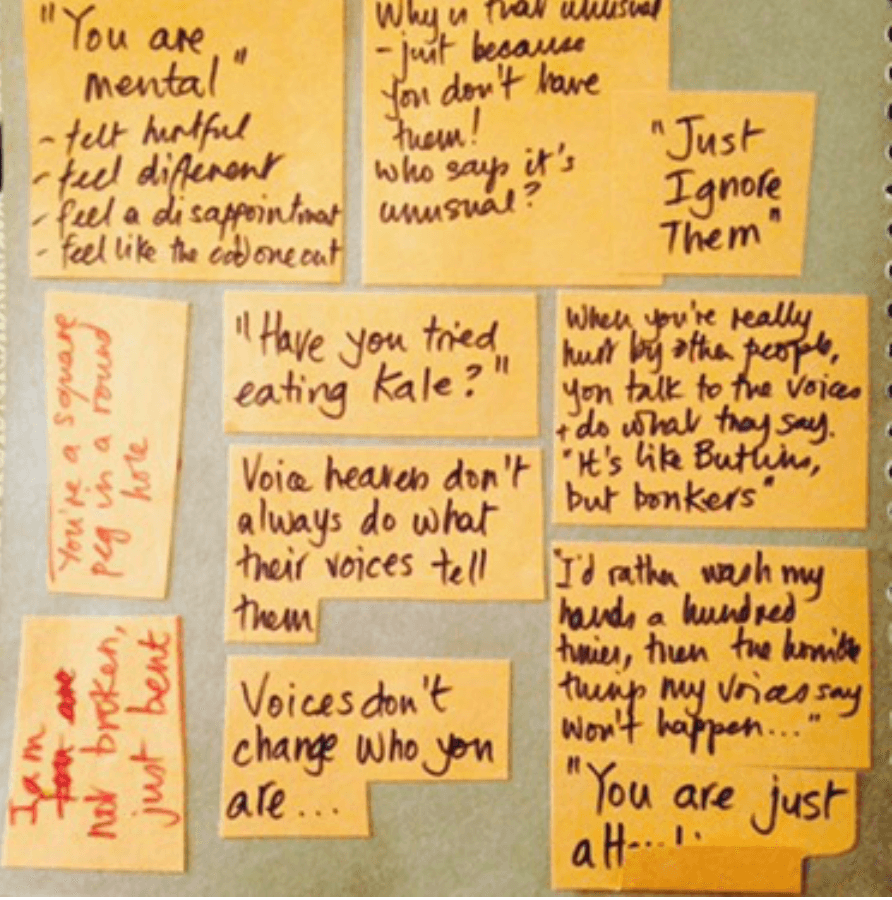 What really stuck out to me during this discussion was how little people understand us. How we are constantly having to explain ourselves or even defend ourselves. Whether it is an underestimation of our ability, a snide comment or an off hand 'suggestion'- people's responses can really hurt. To talk to strangers who experience the same as me was amazing and hearing someone else say that they know what it is like for reality to not make sense at all sometimes was extremely validating. To meet complete strangers yet share such personal experiences is a very powerful thing.
I believe arts can change everything for people with mental health problems and I believe it fiercely. This belief grew when I saw the things people had produced when given the materials. Mary provided everything under the sun you could possibly need in a creative flurry- wooden boxes to decorate, tiny blank faced cloth dolls, sharpies and stencils. We were also given a brown scrapbook each. Later Mary said: "These aren't just books, they are time and space to create and simply be". How true that is. The fact that this lovely book had been gifted to me by these lovely people, who know and understand that I'm this misfit person that the arts can soothe, was amazing. So for the next two hours we all worked on our books, drawing and writing poetry about our experiences.
The workshop was amazing. I could have stayed there forever and I cried several times at the pure 'wow' of it all. There was chance to talk to the lovely Rai 1:1 and her story is living testament to the fact that people who hear voices can still fly high. I'm likely going to meet with Mary again to turn one of the ideas in my book into a physical piece of art. Everyone in the group is planning to go and see our work at the final exhibition at Durham in September. I'm so glad that I found this project, purely by chance, in time to take part. I am however intensely aware that these opportunities are few and far between and for every person who found the workshops there are many more who did not.
We need more places like this. Places where you can be with people who understand you and who share a common interest in creating. The work we did as a group had an impact on us all and I think the session was a real game changer for me. I feel stronger than ever before that having access to the arts can help people with mental health problems. I am certainly going to find a way to fight for this for everyone who needs it.
You can read more from Imogen on her blog 'The Upside Down Chronicles' and 'Imogen the Poet'. 
Voice-hearing experiences in childhood and adolescence are fairly common and are not in themselves necessarily a cause for concern. But if you find that these experiences continue to cause significant distress or interfere with your relationships or daily activities, you should seek the advice of your GP/family doctor. Voice Collective in London also provides a range of useful information and sources of support for young people who hear voices or see visions and their families and carers. You can visit their website here.