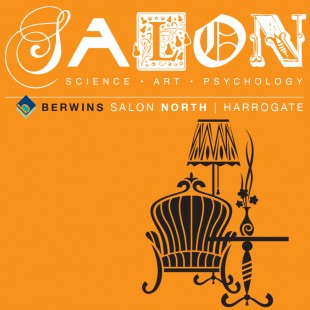 Hearing the Voice project director Charles Fernyhough is delighted to join Juliet Russell and Barry Smith in 'Experiment', the final Salon in the Explore, Discover and Experiment Berwins Salon North Series. More information about this event, including how to book tickets, can be found in the advertisement below.

Berwins Salon North: Experiment
The Crown Hotel, Harrogate
28 April 2016, 7.30pm
Berwins SALON North is a revolutionary movement for the heart and mind. The SALON events consist of a night of the most stimulating ideas in art, science and psychology designed to change your life for the better.
The format consists of an evening of three speakers, each given 30 minutes to engage the audience with their subject, interspersed with intervals allowing time for a well-crafted gin and tonic. Expect the remarkable!
Experiment is the Final Salon in the Explore, Discover and Experiment Berwins Salon North Series.
Juliet Russell is one of the UK's voice experts and indeed the lead vocal coach on BBC's The Voice (and co-founder of Salon London), and will be on hand to help you to experiment with your own voice creatively.  Test and stretch your skills to sound more commanding, to have more vocal range in your speech, and to win friends and influence people. Understand how your voice works and why certain voices surprise, move and enthrall us in this interactive session that takes you on an audio tour of your voice.
Who is that voice in your head, who are they talking to, and what function do they serve?  The award winning writer and Durham University psychologist Professor Charles Fernyhough will be explaining some of the findings from  'Hearing the Voice', as well as recent research into the science of inner experience which raises profound new questions about the nature of thought.
Professor Barry Smith wowed the Salon crew last year with his highly experimental session on the brain and the senses.  As London University's Director of the Centre of the Study of the senses, he pioneers collaborative research between philosophers, psychologists and neuroscientists.  Author of 'The Provencal Rose Paradox' – this philosopher of wine will close the series by leading us in an interactive session on the brain and taste.  Yes, that is an interactive wine session! You're welcome.
Tickets
£18 Unreserved Seating*
BOX OFFICE: 01423 562303 or book online here.
*Please note, all bookings are subject to a £1.75 booking fee.