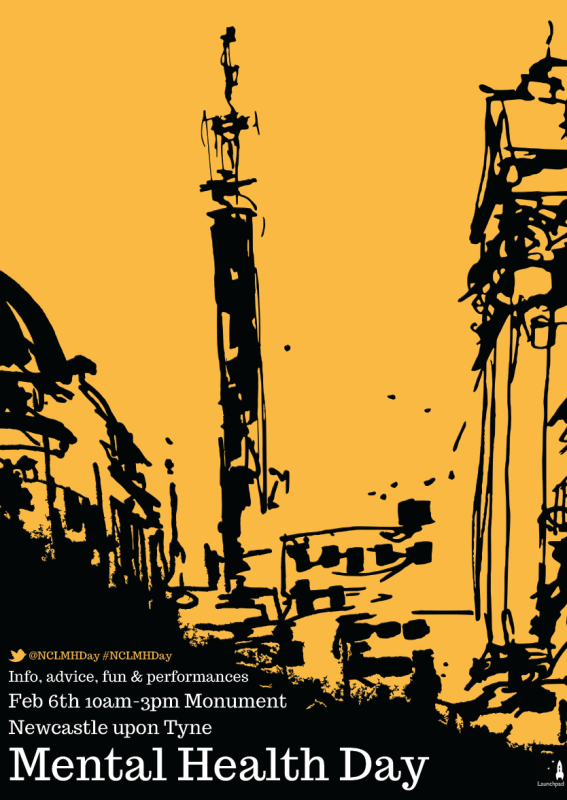 Hearing the Voice is delighted to be taking part in this year's Newcastle Mental Health Day, which will take place at Grey's Monument in Newcastle upon Tyne on Saturday 6 February 2016, 10am – 3pm.
Aimed at increasing public dialogue around mental health and challenging stigma and discrimination, the day will feature a large number of stalls from mental health organisations across the North-East, including the Northumberland, Tyne and Wear NHS Foundation Trust (NTW) and the regional branch of Time to Change, the national anti-stigma campaign.
There will also be a pop-up cinema, a 'chill-out' zone and an interactive space that will be host to a number of music and drama performances throughout the day.
The driving force behind Newcastle Mental Health Day is Launchpad, a local organisation that offers the chance for anyone who uses mental health services in Newcastle to have their voice heard by the people who run these services.
Launchpad's Alisdair Cameron says: "We're proud to have helped run the event for over a decade now, and this year we'll have over 60 organisations, small and large, local, regional, and national … [working together] to raise awareness of mental health issues and let the public know about the various bodies, NHS and voluntary sector that can help. We'll collectively be giving out useful information, tips for wellbeing, and offering the chance to talk about mental health in a fun and friendly way, dispelling myths and tackling discriminatory attitudes. With an entertaining selection of performers and a variety of engaging activities, it'll be a fun day for all."
The HtV team are very pleased to be taking part in this year's event and look forward to the opportunity to increase public understanding of voice-hearing and challenge the myths and misconceptions that surround this experience. If you would like to find out more about how you can get involved our project, talk to us about our research, and hear more about our arts projects, public lectures and seminars, please do come along to our stall at Grey's Monument between 10am and 3pm.
To find out more about what's happening on Newcastle Mental Health Day, you can follow @NCLMHDay on Twitter or search under the hashtag #NCLMHDay. To download the Newcastle Mental Health Day poster, please click here.