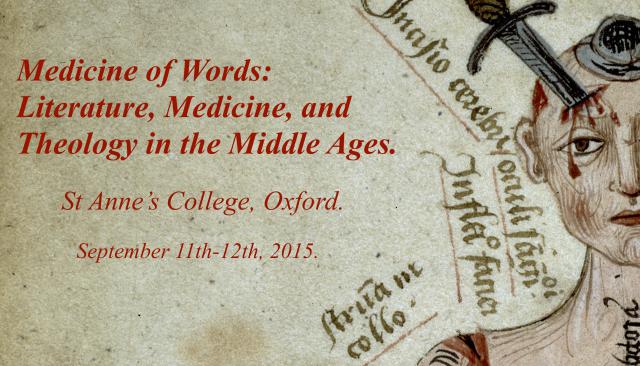 Hearing the Voice was delighted to present a special plenary panel at Medicine of Words: Literature, Medicine and Theology in the Middle Ages, a conference at St Anne's College Oxford, 11–12 September 2015. The aim of the conference was to examine medieval views of the healing power of words in religious and secular texts, drawing on perspectives from literature, medicine and theology.
Charles Fernyhough and Corinne Saunders introduced Hearing the Voice and explained how it emerged from an interdisciplinary collaboration supported by Durham University's Institute of Advanced Study. They described the new Collaborative Award phase of Hearing the Voice (2015–2020), which builds on their earlier Wellcome Trust Strategic Award (2012–2015).
Hilary Powell then presented her paper entitled 'Once more with feeling: Driving out demons with psalmody'. She described how her work on voices and visions in medieval hagiographical narratives has continued through her analysis of examples of the singing of the psalms to repel intrusive thoughts. Drawing particularly on narratives of the lives of St Columbanus and St Guthlac and on patristic theories of demonology from Augustine and Cassian, she integrated medieval theories of cognition with models from contemporary cognitive science in showing how song was a powerful force in stabilising a mind under assault from intrusive cognitions.
Corinne and Charles then introduced their paper 'Reading Margery Kempe's inner voices'. Margery Kempe (c.1373–after 1438) was an English mystic whose The Book of Margery Kempe is considered the first autobiography in English. Corinne described how Kempe's voice-hearing experiences fit within a tradition in European mysticism and have profound resonances for contemporary research in voice-hearing. Charles then explained how he has been inspired by the phenomenological richness of Kempe's writings to develop further his cognitive model of inner speech.
It was an extremely welcoming and friendly conference which proved thoroughly inspiring in terms of introducing the team to new texts and authors, and in pointing up connections to other areas of research, such as the use of reading as a therapeutic resource and medieval models of sensory perception. We are very grateful to conference organiser Daniel McCann for the invitation to present our research as a plenary session.