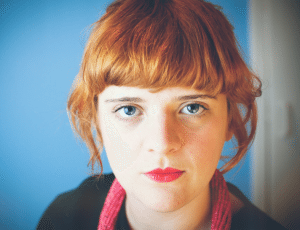 A warm welcome back to Dr Jennifer Hodgson who rejoins the Hearing the Voice team as a Postdoctoral Research Fellow on the Writers' Inner Voices project.
Jenny was with us last summer as the lead researcher on Writers' Inner Voices – a qualitative study, undertaken in collaboration with the Edinburgh International Book Festival, of the ways in which writers experience the voices, presence and agency of the characters they bring to life in their writing. She returns to continue her fascinating work in this field. Jenny writes:
'My background is in literary studies, particularly the experimental novel and the theories of narrative and fiction. My PhD thesis was on the work of the British experimental writer and voice-hearer, Ann Quin. In my current research, I'm interested in developing an account of the distinctiveness of literary narrative that is concerned with the ways in which the novel shapes and is shaped by experience and by culture, working at the intersection of close textual analysis, theoretical and critical practice and the exploration of literary, intellectual and cultural histories. I'm also a literary editor, and worked for a number of years with Dalkey Archive Press. All of which feeds into my role with Hearing the Voice, working with writers to explore the ways that they experience the characters they create. Over the next nine months, I hope to pick up where I left off, exploring this phenomenon and its implications for thinking about literary creativity more deeply and getting our fascinating – and frequently surprising – findings out into the world.'
We warmly welcome Jenny back to Durham University and look forward to working with her over the next nine months.