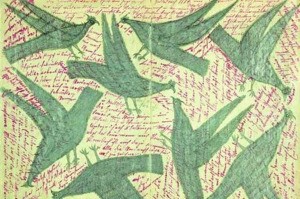 The next meeting of the Joint Special Interest Group in Psychosis (JSIGP), featuring a presentation by Dr Zsófia Demjén (Open University) and Professor Elena Semino (Lancaster University) on 'Language and the phenomenology of psychosis in an autobiographical narrative' will be held on Wednesday February 25th 2015 from 5.30 – 7PM in the Joachim Room, College of St Hild and St Bede, Durham University (30 on this map).
Abstract: 'In this paper we present a linguistic analysis of the first-person account of psychosis included in the book Henry's Demons (2011, Simon & Schuster). The book was co-written by Patrick and Henry Cockurn, respectively father and son, and relates the events surrounding Henry's diagnosis of schizophrenia.
We begin by considering Henry's own reports of what may be described as auditory verbal hallucinations. We provide a typology of the different kinds of 'voices' mentioned by Henry and we analyse the ways in which he represents them linguistically: we focus on Henry's use of Direct Speech, his idiosyncratic use of the verbs 'hear' and 'feel' (e.g. 'I felt the tree telling me to take off my shoes'), and the complexity and style of the verbal content attributed to hallucinatory voices. We then consider several other distinctive features of Henry's narrative: a strong focus on the self; a narrowed perspective; a relative lack of attention for others' mental and emotional states; and issues with tellability and coherence in story-telling. We problematize the ways in which linguistic evidence has and could be used to draw conclusions about thought processes in diagnosing mental illnesses such as schizophrenia.
We hope to show that a linguistic approach can provide systematic insights into aspects of the 'lived experience' of psychosis that might be relevant to clinical practice and mental health care.'
Places are limited for this event.  To reserve a place, please fill in our online registration form.
About the Joint Special Interest Group in Psychosis
The Durham University and Tees, Esk and Wear Valleys NHS Foundation Trust Joint Special Interest Group for Psychosis (JSIGP) was set up in 2011 with the aim of fostering dialogue between mental health professionals, service users, academic researchers and students.  It is open to anyone, but meetings will be of particular interest to those staff working in 'psychosis services' or who are involved in research within the field. A warm welcome is also extended to any service users who would like to attend. The group meets on a regular basis to discuss a wide range of topics and speakers.
Service users and their families and friends who attend meetings of the Joint Special Interest Group for Psychosis can receive an honorarium of £20 plus travelling expenses.  For more information and to obtain the relevant claim forms, please contact Valentina Short.