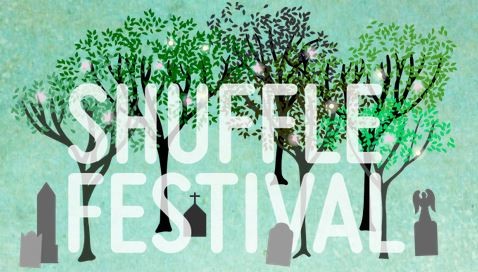 Shuffle your Mind: Short Film Screenings
Saturday 2 August, 4.30 – 6pm
Southern Grove Community Centre,
Tower Hamlets Cemetery Park, London
TICKETS are free but bookings are essential
A series of films depicting altered minds, other inner worlds and the limits of mental health. From film-makers depicting their own psychosis to digital animators capturing inner visions.  Curated by Vaughan Bell, clinical psychologist at King's College London and the NHS. A short discussion and audience Q&A with Vaughan and some of the filmmakers will follow the screenings.
Programme:
BEAT (Dir. Aneil Karia and starring Ben Whishaw)
Shot in Hackney on 16mm, the film documents a day in the life of a man who appears to be walking a paper-thin line between profound joy and complete hopelessness. This film is about the sprawling chaos and oppressive loneliness that can coexist in the city, and a man who finds his withdrawal from the world challenged by a visceral force. BEAT has featured as part of the Edinburgh Film Festival, Encounters Film Festival, Melbourne, Rhode Island and Warsaw International Film Festivals. Aneil won the UWE European New Talent Award for Beat at Encounters 2013.
ANGELS AND GHOSTS (Voiced by Samantha Morton, dir. Sara Kenny)
Based on a true story, award-winning short Angels and Ghosts tells the emotive tale of Amber, a young woman who is on a quest to find her brothers who have disappeared. Narrated by Oscar nominated actress Samantha Morton, it's a gripping animated adventure exploring the potent themes of mental health and family bonds.
ADAM PLUS ONE (Dir. Adam)
Short film debut by Adam, a voice-hearing philosopher, about his experience hearing voices when no-one else does. With education, laughter & talking, Adam is committed to destroying the voice hearing stigma.
ENDSTIGMA (Dir. Anjela Lauren Smith)
Six women read poems written over the course of a few years by actress Anjela Lauren Smith, some during times when Smith was unwell with bipolar affective disorder. "Which one of us has a mental health problem?  asks Anjela Lauren Smith in her appeal to end the stigma surrounding mental health problems.  "That's just it, you can't see it….It's time to talk."
CALDERA (Dir. Evan Viera)
Through the eyes of a young girl suffering from mental illness, CALDERA glimpses into a world of psychosis and explores a world of ambiguous reality and the nature of life and death. CALDERA is inspired by the filmmaker's father's struggle with schizoaffective disorder. In states of delusion, he has danced on the rings of Saturn, spoken with angels, and fled from his demons. He has lived both a fantastical and haunting life, but one that's invisible to the most of us. In our differing understanding of reality, the film looks at how society blindly mandated his medication, assimilate him to our marginalizing culture, and entirely misinterpreted him for all he is worth. CALDERA aims to not only venerate the filmmaker's father, but all brilliant minds forged in the haunted depths of psychosis.
PARANOIA (Dir. Sandeepan Chanda)
A guy travels in a late-night Mumbai local train. The carriage is empty except for a few sleepy passengers. A man with a briefcase boards the train at a station and decides to sit directly in front of him…This animated short film was made by four students as part of the final year degree project for Thakur-Toonskool Advanced Animation Academy in Bangalore, and has won six awards in India to date.