Do you have lived experience of voices or visions or work with people who do?  If so, you might be interested in the following 4-day Hearing Voices Group Facilitation Training run by the London Hearing Voices Project at Mind in Camden.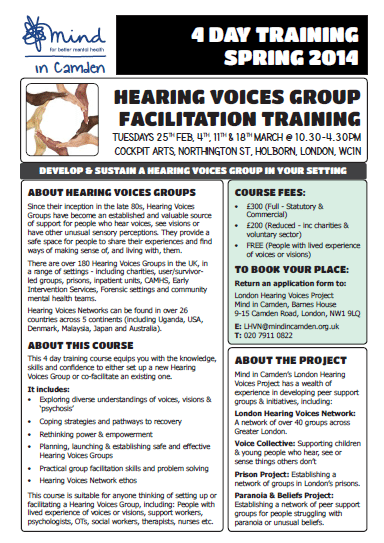 25th February and 4th, 11th & 18th March 2014 @ Cockpit Arts, Northington Street,  Holborn, London WC1N
This 4-day training course will equip you with the knowledge, skills and confidence necessary to set up a new Hearing Voices Group or co-facilitate an existing one.  It is suitable for people with lived experience of hearing voices or seeing visions, support workers, psychologists, occupational therapists, social workers and other mental health professionals.  For more information and instructions on how to apply, please download the LVHN Group Facilitation Training application pack.
Completed application forms should be returned to Mind in Camden via email or by post to London Hearing Voices Project, Mind in Camden, Barnes House, 9-15 Camden Road, London, NW1 9LQ.