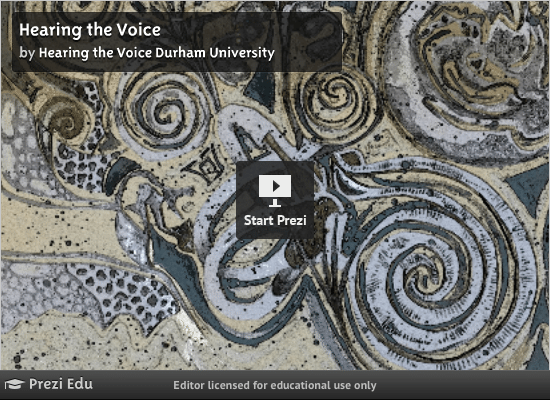 The Hearing the Voice Prezi is an online introduction to our research and public engagement activities across five different work packages: phenomenology, cognitive neuroscience, hermeneutics, therapeutic practice and methodology.  We hope to add to the Prezi over the course of the project, so that it becomes a continually evolving record of the development of HtV research, our various arts activities and our collaborations with clinicians, mental health professionals and members of the voice-hearing community.
In order to view the Prezi, please click on the image above.  Alternatively, click here.
Instructions for watching the Prezi
When you click on the link above, you will be taken to a screen in Prezi.com containing an embedded version of the HtV Prezi.  If you press play in the bottom left hand corner, the presentation will run automatically.  Alternatively, if you use the arrow keys you can control the speed at which the Prezi runs, and move from screen to screen manually.  If the automatic play is moving through the screens too quickly, you can pause it and then progress through the Prezi using the arrow keys to slow it down.
To make the Prezi the size of your full screen, press the maximize button on the bottom right hand corner of the Prezi.
We hope you enjoy watching!  If you encounter any problems while viewing our Prezi, please don't hesitate to let us know.