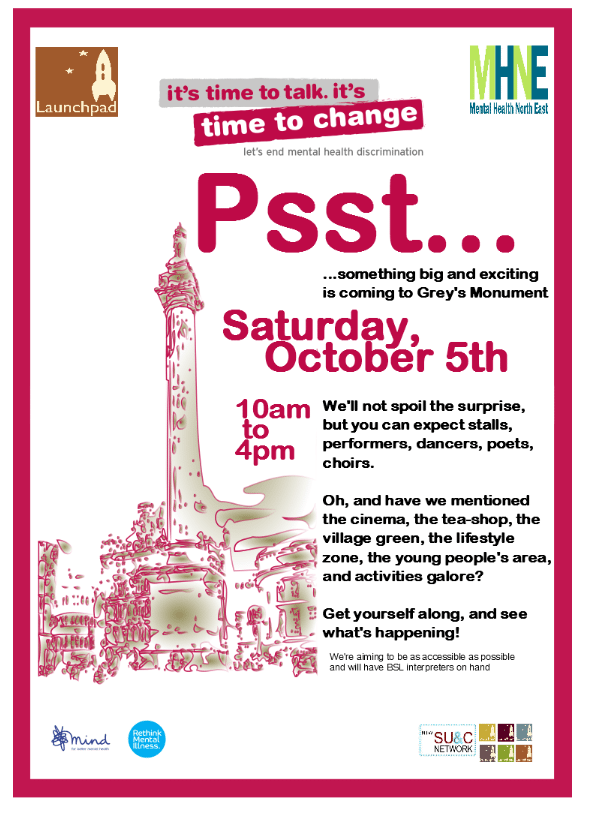 Hearing the Voice is very excited to be running a stall at the Time to Change 'pop-up' Village, which will be at Grey's Monument in Newcastle upon Tyne on Saturday, 5 October 2013.
Brought to Newcastle by Launchpad and Mental Health North-East in conjunction with the national Time to Change campaign, the pop-up Village will provide 'an interactive space, where the public can learn more about mental health whilst engaging in a range of activities and having lots of fun'.  It will include a range of covered stalls from local organisations, a cinema, a teashop, a lifestyle tent, a young people's zone, and a Village Green that will be host to a number of music and drama performances throughout the day.
There will also be over eighty village volunteers on site with first-hand experience of mental health issues, who will engage the public in conversations about mental health in order to combat stigma and discrimination.
Angela Slater, North East of England Regional Coordinator at Time to Change, said: "We know that conversations between people with and without mental health problems are one of the most effective ways to challenge misconceptions and stereotypes. People start to realise that those of us with mental health problems are so much more that their diagnosis, they are talented, creative and engaging, they are brothers, sisters or parents. By entertaining and engaging with people at the Time to Change Village we expect that they will learn something new and feel less afraid of having more open conversations about mental health."
The HtV team are very pleased to be taking part in this event, and look forward to working with local organisations in order to increase awareness, challenge preconceived opinions, and raise the profile of mental health services available to people in the region.  If you would like to find out how you can get involved in the HtV project, talk to us about our research, and hear more about our arts projects, lectures, seminars and other events designed to increase public awareness of voice-hearing, please do come along to our stall at the Time to Change Village.
The Time to Change Village will be in Newcastle from 10 am to 4 pm on Saturday 5 October.  For more information, please click here.