Are you a young person who hears voices or sees things that other people don't?  If so, you might be interested in the following workshops run by Voice Collective.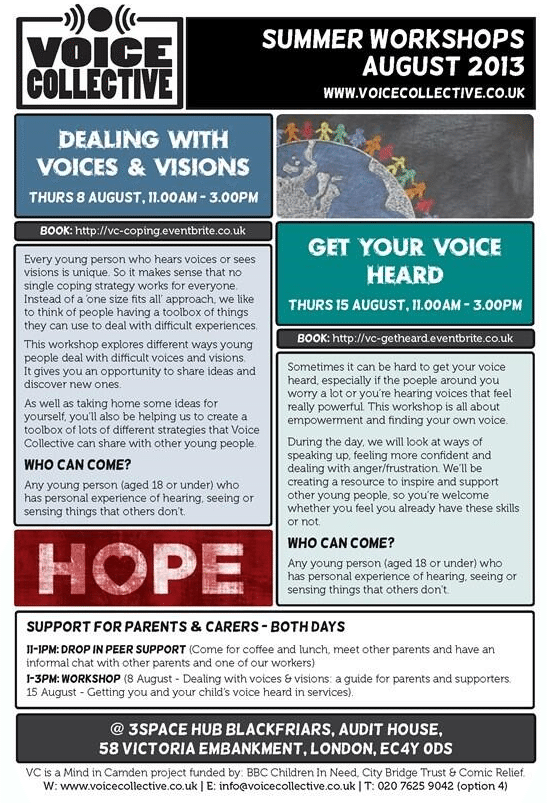 'Dealing with Voices & Visions'
Thursday 8 August 2013
11 am – 3 pm
Every young person who hears voices or sees visions is unique, so it makes sense that no single coping strategy works for everyone.  This workshop explores the different ways in which young people deal with difficult voices and visions, and will give you an opportunity to share ideas and discover new ones.
As well as taking home some ideas for yourself, you'll be helping to create a toolbox of lots of different strategies that Voice Collective can share with other young people.
'Get Your Voice Heard'
Thursday 15 August 2013
11 am – 3 pm
This workshop is all about empowerment and finding your own voice.  We'll explore ways of speaking up, feeling more confident and dealing with anger and frustration.  The aim of the workshop is to create a resource that can inspire and support other young people, so you're welcome to attend whether you feel that you already have these skills or not.

The Voice Collective Summer Workshops will be held at 3Space Hub Blackfriars, Audit House, 58 Victoria Embankment, London, EC4Y 0DS.  For more information and details of the workshops for parents and carers, please see the
To reserve places via Eventbrite, please click here.