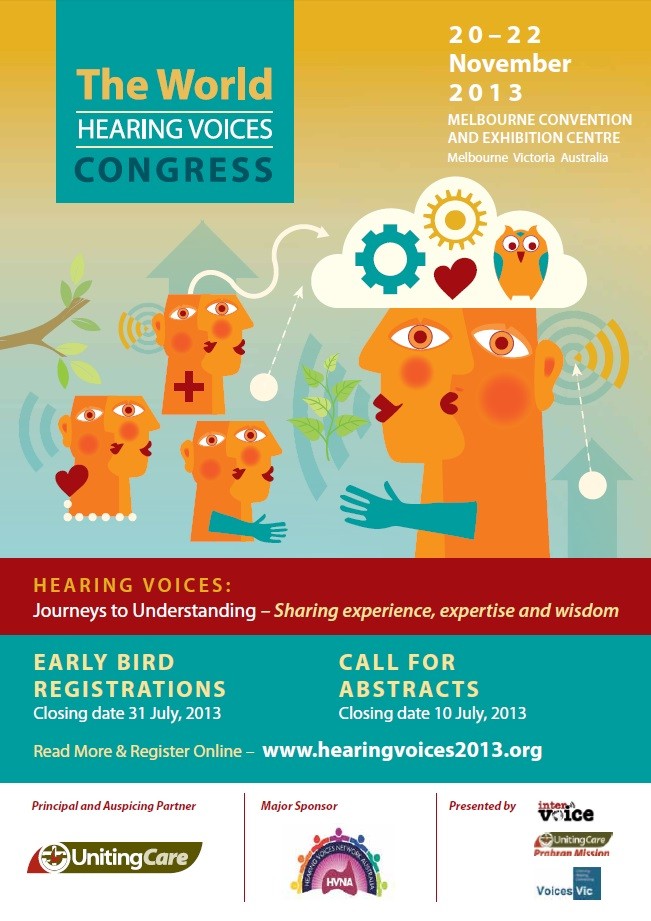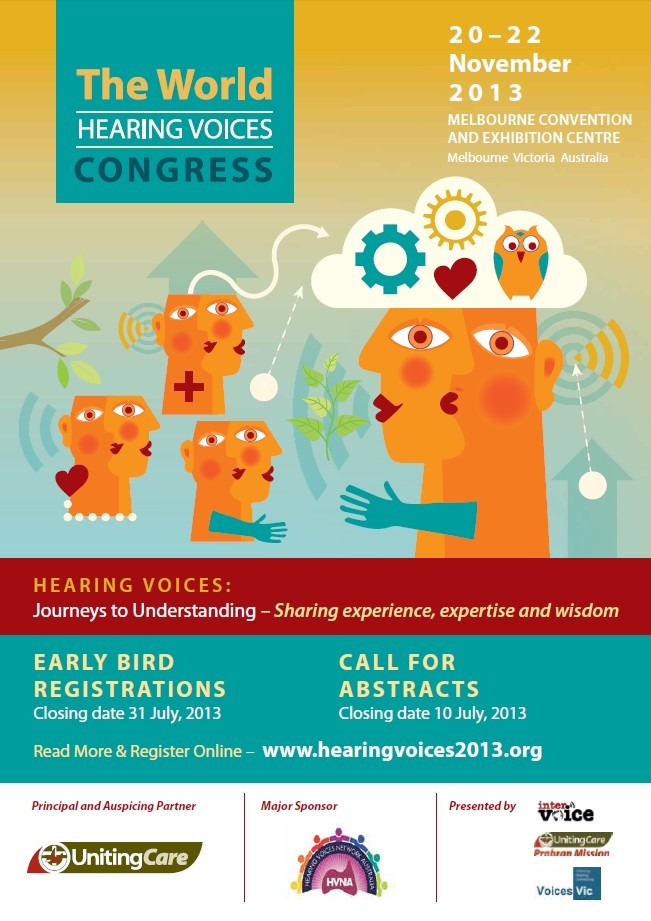 The World Hearing Voices Congress
'Journeys to Understanding: Sharing experience, expertise and wisdom'
Melbourne Convention and Exhibition Centre, Victoria, Australia
20-22 November 2013
Working in partnership with Intervoice and the Hearing Voices Network of Australia, Voices Vic will be holding the 2013 World Hearing Voices Congress in Melbourne, Australia.
Bringing together world-leading experts in working with voices, the congress will feature a broad range of perspectives on voices and recovery, including indigenous and multicultural views, trauma and voices, lived experiences of recovery, innovative youth programs, a new clinical research stream, and opportunities for collaborative panels and discussion groups between voice hearers, carers/family, workers and academics.
For more information about the congress please see the 2013 World Hearing Voices website.  To download the brochure, please click here.
REGISTRATION:
In order to register, please visit the online registration site.  Early bird registration closes on 31 July 2013.  Standard registration runs from 1 August 2013 to 31 October 2013
CALL FOR PAPERS:
Would you like to present at the 2013 congress? Intervoice and Voices Vic are currently seeking applications for talks, workshops, symposia and posters that demonstrate new ways of understanding living with voices, bring together different perspectives and experiences, and challenge old thinking about voices, unusual experiences and the mental health system.  Presentations should tackle challenging topics and be delivered in a manner that is respectful and inclusive, whilst at the same time stimulating honest and open discussion.
For more information, please download the abstract submission guidelines, the poster submission guidelines, and the information sheet for new presenters.
Submissions must be made on-line, via the congress website. The deadline for application is 10 July 2013.