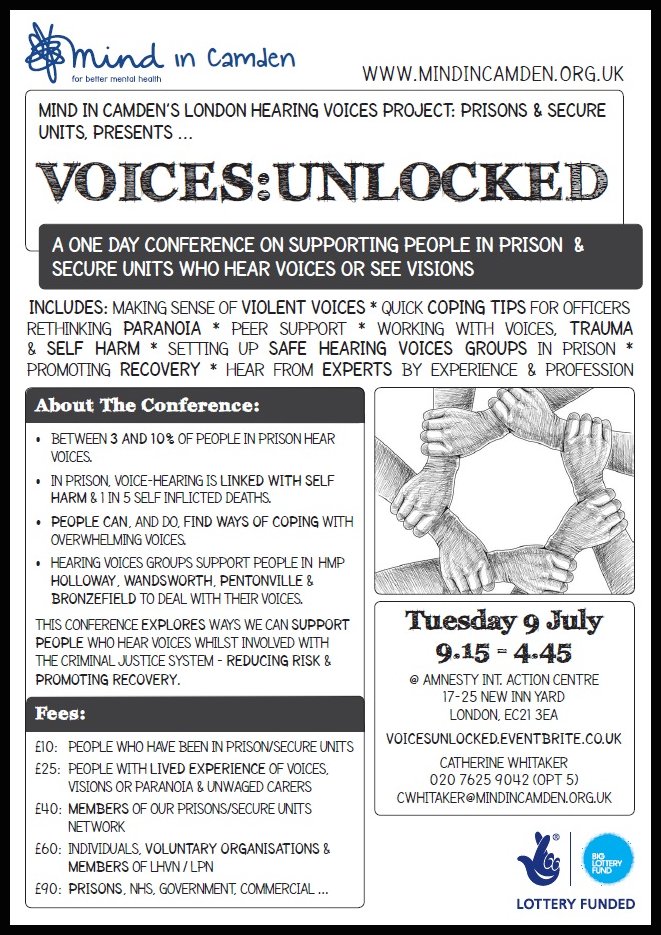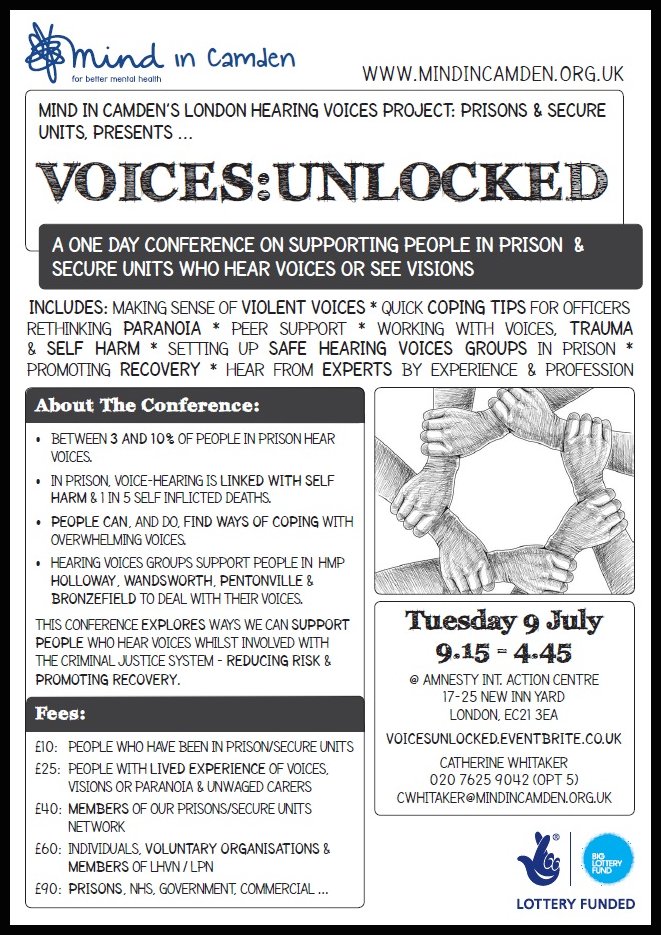 Amnesty International Human Rights Action Centre
17-25 New Inn Yard
London, EC21 3EA
9 July 2013
9.15 am – 4.45 pm
Organised by Mind in Camden's Prison Project, 'Voices Unlocked' is a one-day conference exploring the ways in which we can support people who hear voices or see visions while involved in the criminal justice system. In addition to providing the opportunity to learn about ways in which we can reduce risk and promote recovery, the conference is a chance to hear from a wide range of experts by experience and profession, including facilitators from HMP Holloway, Wandsworth, Pentonville & Bronzefiled, the Mind in Camden Prison Project Team, Jacqui Dillon, Dr Dave Harper, and many more.
Topics Include:
Making sense of violent voices
Quick coping tips for officers
Rethinking paranoia
Peer support in prisons & secure units
Working with trauma & self harm
Setting up safe Hearing Voices Groups in prison
Recovery
Fees:
| | |
| --- | --- |
| £10 | People who have   been in prison / secure units |
| £25 | People with lived   experience of voices, visions or paranoia & unwaged carers |
| £40 | Members of our   prisons / secure units network (organisations that currently run groups) |
| £60 | Self funding   individuals, voluntary organisations & members of LHVN or PN |
| £90 | Prisons, NHS,   government & commercial organisations |
To book your tickets on line, please visit the Voices Unlocked Eventbrite site.
For more information about the conference, please download the Voices Unlocked conference flyer or email Catherine Whitaker or telephone 020 7625 9042 (Option 5).
To find out more about Mind in Camden's Hearing Voices: Prison and Secure Units Project, please click here.