Professor Ian Hacking: '"Making Up People' Reconsidered"
MEA House Auditorium
Northumbria University
15 May 2013
10.30 am – 12 pm
As part of a series of workshops for the Leverhulme-funded project "Fashionable Diseases: Medicine, Literature and Culture"  at the Universities of Northumbria and Newcastle, the Northern Network for Medical Humanities are pleased to welcome Professor Ian Hacking (Philosophy, University of Toronto) on 15th May 2013, 10:30am at the MEA House Auditorium, Northumbria University.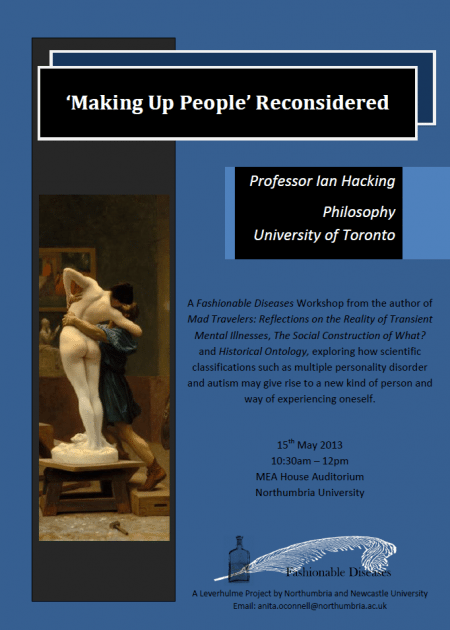 Professor Hacking will give a lecture entitled "'Making Up People' Reconsidered" exploring the ways in which new scientific classifications of diseases such as multiple personality disorder and autism may affect experiences of them and thus give rise to a new type of person and way of being.    You may wish to read the following article in preparation for the event: Ian Hacking, "Kinds of People: Moving Targets." Proceedings of the British Academy 151 (2007): 285-318.  A link to the article is available here.
All are warmly invited to attend.  For more information and details on how to register, please download the 'Making Up People' Reconsidered workshop flyer.
For directions to the venue, please click here.