In July we will be running our final MRI sessions for our study of voice-hearing in people without need for care (sometimes known as non-clinical voice-hearers). For the study we have had loads of great support from people with and without experience of hearing voices – thank you to all those who have volunteered their time or helped spread the word. We now only need 3 or 4 'control' participants to provide the final matches for our voice-hearer group.
read more
Have you ever had the experience of feeling like you are in the presence of somebody, even when no-one was there? Or had the feeling that someone was close by, who you couldn't see, hear or touch?
read more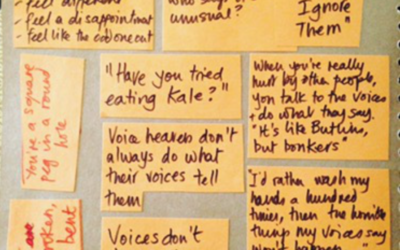 As part of the preparatory work for our forthcoming exhibition on voice-hearing at Durham's Palace Green Library (November 2016 – February 2017), Hearing the Voice has produced Listen Up! – a series of creative workshops in Bradford, Leeds and Durham specifically for young people who hear voices, see visions or have other unusual sensory experiences. Facilitated by our collaborator Rachel Waddingham and our creative facilitator Mary Robson, the participants in the workshops are creating an artwork that challenges the stigma associated with voice-hearing and which will go on display in the exhibition space. In this blog post, one of the participants, Imogen, reflects on what contributing to Listen Up! means for her.
read more