INTERDISCIPLINARY VOICE-HEARING RESEARCH
News, insights and updates from Hearing the Voice
Earlier this year we ran three co-design workshops to find out what young people who hear voices would want from an app. Now we're looking for some feedback on a small scale, early prototype. If you're aged 16–25 with personal experience of hearing voices, we'd love to hear what you think about what we've created.
read more
We're looking for a group of young people (aged 16–25) with first-hand experience of hearing voices who would like to work with us to build a pilot version of our Living with Voices app. Later this month we will be running a series of three online workshops in which we'll co-design the app and develop its features together. Workshops will take place on Monday 21 March, 28 March and 4 April (6–7.30pm).
read more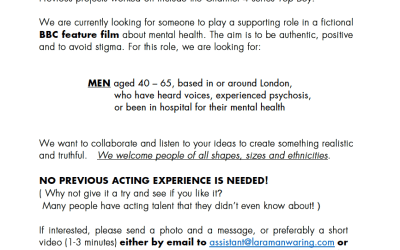 Lara Manwaring Casting seeks men, aged 40–65, based in London, who have heard voices, experienced psychosis or been in hospital for their mental health for a supporting role in a new BBC film about mental health.
read more