Roz Austin, a doctoral student in Durham's Centre for Medical Humanities and Department of Geography, who is also part of the 'Hearing the Voice' research team, recently attended the Challenging the Stigma of Psychosis Conference in Manchester (Tuesday 2 February 2016). Reflecting on the conference, she writes:
Bringing together people with lived experience of psychosis, clinicians and researchers to present research, theory and practice on the topic of stigma, the purpose of this conference was to raise awareness of how societal and internalised stigma affects the lives of people who experience psychosis. Some of the highlights from the event include the keynote address by Professor Patrick Corrigan (Illinois Institute of Technology, US), who described how the stigma of mental illness is similar to that of racism and homophobia. He advised that 'you can't change stereotypes, but you can challenge prejudice'. Corrigan noted that the biggest public concerns are that the public think that the mentally ill are 'dangerous', 'weak', and they 'choose to be this way'. He said that the stigma of mental illness means that people may be alienated from faith communities. They may have worse educational opportunities, poor housing, and less access to health care.
Corrigan pointed out that '1 out of 4 people have a mental illness, but you don't know about it, because people are in the closet'. With schizophrenia or psychosis the stigma is even greater. When you consider that 1% of the population in the UK has a schizophrenia diagnosis, this means that there are 694,684 people living with stigma. Corrigan argued that under certain circumstances almost anyone can hear a voice. Examples that he gave included: a recent bereavement, trauma, solitary confinement, sleep deprivation, use of certain drugs, high fever, and someone being on the verge of sleeping or waking. Corrigan suggested that living in recovery does not mean being symptom free, and he gave examples of famous people who hear voices, which include Brian Wilson from The Beach Boys, Anthony Hopkins, and the late Nobel prize-winner Mathematician, John Nash. Corrigan reflected that 'if people came out it would change the stigma enormously'. Corrigan is the author of a programme called 'Honest, Open, Proud', which takes individuals through a process of learning about and applying principles of self-disclosure about their mental illness and recovery. For as Corrigan noted for 'people who were in the closet – it was horrible for their health'. Yet, 'if you come out you don't get a bear hug. You may be the focus of gossip for a while'. Therefore, people can benefit greatly from having support to make the self-disclosure of mental illness.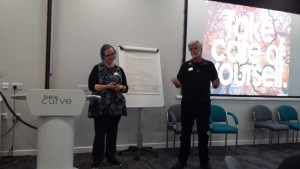 In a symposium featuring a range of presentations on overcoming internalised stigma and fostering empowerment, Rachel Waddingham, who is a freelance trainer and a trustee for the National Hearing Voices Network, spoke about her own journey to recovery from 'psychosis'. She now understands her voices and other intense experiences to be a reaction to trauma. She said that 'the moment we use words like symptoms, illness, delusions, it makes my life so much more difficult, especially when the words are being used by caring, nice people', such as mental health nurses. She reflected that 'I internalised the views of the mental health system, and was praised for my good insight'. It was a hearing voices group that gave Rachel a safe place to grow. She said: 'I heard other people sharing their experience. They were trying to connect with each other'. Rachel has now been out of services for five years, and she feels fortunate that 'I was able to come back to the mental health system as a survivor, and have a different relationship to it'. She said: 'It was about discovery and reclamation. For me my story was stolen from me. The mental health system didn't mean to collude with my abuser, but the honest truth is they did. I'm not ill. My voices are not symptoms'. I found Rachel's story very uplifting, as she has clearly reclaimed her experiences in a way that has allowed her to develop a positive sense of self. In 2009, Rachel set up Voice Collective in Mind in Camden, a project that helps 6-18 year olds to live well with their voices. The project adopts an experiential approach, where they work with young people whatever their perspective on their voices. For example, one young person might think that their voices are linked to trauma, while another young person understands that their voice is a ghost talking to them.
Professor Graham Thornicroft, a consultant psychiatrist with the South London Maudsley Trust, argued that research suggests that for younger people it works best to challenge stigma in educational settings. He showed us the short film 'Stand Up Kid', which has been made by the anti-stigma campaign 'Time To Change' (which is available here). Thornicroft said that evaluations of the work that 'Time to Change' has done to reduce stigma showed that interventions worked best if there was a personal testimony given by a trained speaker who has experience of mental illness, that employed a form of social contact, such as drama or music, that the person liked.
Dr Kathy Greenwood, a psychologist based at Sussex University, said that stigma attitudes start to develop from the age of seven. She has held six focus group with children aged 7 to 11, in which cartoon animals were used who had diagnoses of obsessive-compulsive disorder or psychosis. The children were asked 'would you be friends with this cartoon character?' Greenwood said that children tried to make sense of the situation, as they had a desire for certainty. She found that children want and benefit from information and knowledge. For once they could ask the cartoon animal questions about their illness, they were often willing to be friends with them. Greenwood argued that children need to be educated earlier about mental illness. At present schools are waiting until adolescents are aged 14 or 15 to intervene to change attitudes about stigma, and this is too late because attitudes have already been formed. Greenwood argued that when research carried out in 2014 showed that 88% of people with mental illness were experiencing discrimination in at least one area of their life, it is important to address this.
It was helpful to find out at the conference about the cutting-edge research on stigma that is happening at different universities. The conversations at the conference led to me reflecting on why do we 'other' people? Why are particular groups more likely to be stigmatised than others? Who is it that is benefitting? It was clear that myth-busting the stigmatising attitudes that were held by the general public was vital, as was empowering those with psychosis to speak out about their experiences. Thornicroft reported that research showed that people with mental health problems are seen by employers as less employable than people coming out of prison with criminal records. So, I was impressed to learn that the City Mental Health Alliance is encouraging employers in businesses in London to have constructive conversations about mental illness. Hopefully initiatives such as this one will lead to those with psychosis feeling more able to speak out about their lived experience of coping with voices and other unusual experiences.