Roz Austin, a doctoral student in Durham's Centre for Medical Humanities and Department of Geography, who is also part of the 'Hearing the Voice' research team, recently attended the Open Dialogue conference in London (Tuesday 2 February 2016). Reflecting on the conference, she writes:
I first heard of the open dialogue approach when I attended the Greece World Hearing Voices Congress in 2014. As a voice-hearer myself, I was struck by how this approach involved the voice-hearer as an equal in a meeting that took place in their own home if this were possible. I felt that this was a more empowering and less stigmatising alternative to meeting with a psychiatrist in a ward round in a hospital setting. It also provided a forum where one could be listened to.
The conference's first speaker was Professor Jaako Seikkula, a clinical psychologist, who is a member of the team in Western Lapland in Finland which developed the comprehensive Open Dialogue approach. Seikkula's presentation explored how mental health services can move in a more dialogical direction. As the philosopher Mikhail Bakhtin argues 'no-one can deny the truth of the other'. Thus, the power of dialogue is such that one accepts the other without conditions. So, ideally, everyone's voice should be treated as equal. Seikkula reflected that in the 1960s, there was the first individual psychodynamic psychotherapy for schizophrenia patients. This then led in the 1970s to integrating systemic family therapy as a part of the entire treatment process. Seikkula stressed that the open dialogue approach rests on teamwork, and that this always starts with an open therapy meeting into which the patient and their family is invited. The patient always participates from the outset, regardless of how confused or psychotic they are. For as Seikkula reflected: 'I never met with a schizophrenia patient. I always met with a human being'. Open dialogue therapy sessions are not planned in advance, but instead the therapist asks their client: 'How would you like to use the time?'
Seikkula argued that the power of this approach became evident in the remarkable results: 85 % could return to full employment, and over 80 % were living without any psychotic experiences at five year follow up in 1997. This was reached by minimum use of antipsychotic medication, and in two thirds of cases none. Seikkula argued that optimum treatment in psychosis involves immediate help, the perspective of the person's social network, flexibility and mobility, tolerating uncertainty, and taking responsibility. He said that one of the main challenges is to see psychotic problems as part of human life. We also need to view dialogicity as the main focus of psychotherapeutic orientation. At this point, Seikkula quoted David Patterson, who said that 'love is the life force, the soul, the idea. There is no dialogical relation without love, just as there is no love in isolation. Love is dialogic'. When we heard reflections from the panel, Jacqui Dillon, who is the chair of the English Hearing Voices Network, warned that it is important not to have a hard and fast rule about bringing families into the room in open dialogue, as some families can be abusive.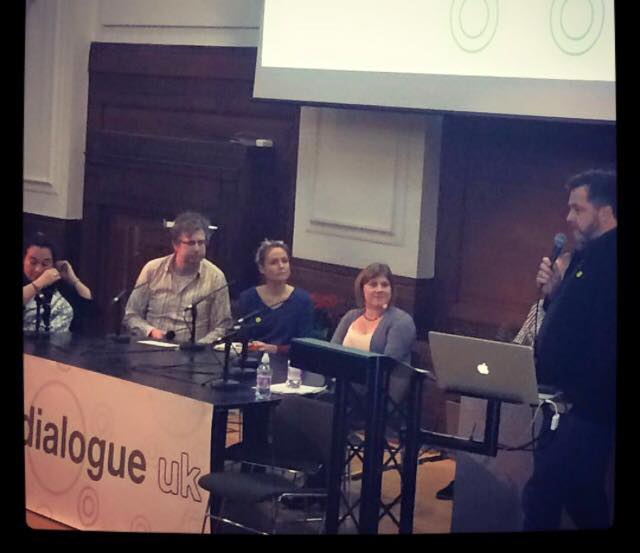 Volkmar Aderhold and Petra Hohn gave a presentation about the training and practising of the open dialogue approach that has been implemented in Finland, Germany, Sweden and the UK. They argued that professionals needed to be trained to move from a position of 'doing to' patients to 'being with' patients, so that they can be 'exploring together' issues and difficulties. They also pointed out that it is helpful to recognise that psychotic states are not so different to other human experience. When Anderhold and Hohn received feedback from the panel, it was observed that in mental health services there is often a dichotomy of 'them' (the patients) and 'us' (the mental-health professionals). Yet, we all have expertise by experience, as suffering of any kind can be viewed as 'a call to change'. Another mental health professional observed that we need to be careful that the open dialogue approach does not become another form of colonisation.
It was exciting to learn at the conference how the open dialogue approach is developing across the world. It has been used successfully in the Parachute project in New York City, which offers alternatives to hospitalisation for people experiencing emotional crises. The project is largely driven by peers – who themselves have their own experiences with the mental-health system. People are able to stay overnight in a calm environment where they have support to cope with their emotional distress. I was also impressed to learn that the NHS is now running a randomised controlled trial of using peer-support open dialogue in several NHS Trusts around the country, and is seeking to transform the model of health care provided to patients with first episode psychosis in the UK. The training involves equipping staff with the key skills to work with the whole family or network, rather than just the individual, and thus affect change at deeper levels. In every team there are peer supporters, and their experience is itself recognised as a form of expertise. For more information see 'The NHS open dialogue project'.
For more information on the 2016 Open Dialogue UK conference, please visit the conference website.