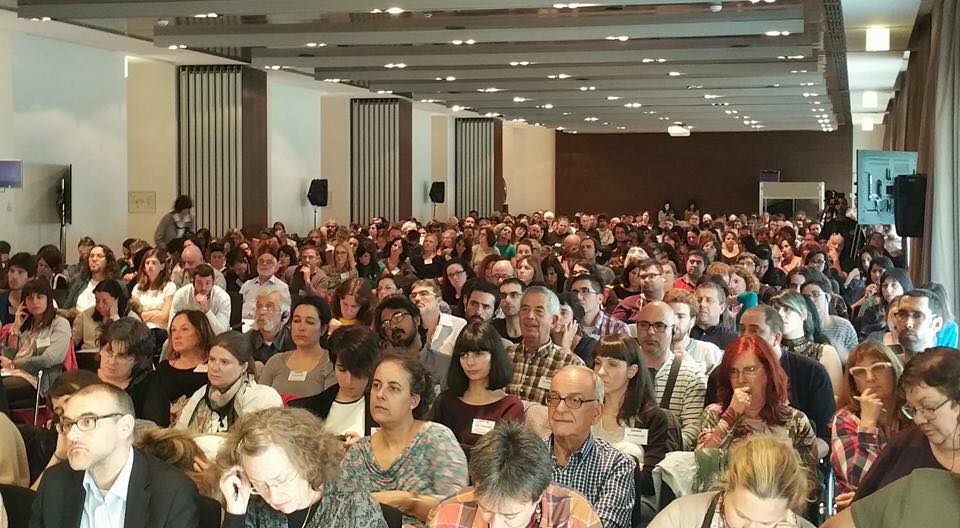 Roz Austin, a doctoral student in Durham's Centre for Medical Humanities and Department of Geography, who is also part of the 'Hearing the Voice' research team, recently attended the 7th World Hearing Voices Congress in Spain. In the second of a series of posts, she continues to report on some of the plenary sessions and workshops she participated in.
I was excited by the varied programme of presentations and workshops at this year's World Hearing Voices Congress in Spain. One of the workshops was being given by Paul Baker, a psychiatric nurse from Britain. The title of Baker's workshop was 'Recovering together: Can voice-hearers, family members, social networks and mental health workers work successfully together?' Baker asked all of us if we had had the experience of waking up in the morning and hearing our name being called. Nearly twenty people in the workshop put their hand up. Baker explained that voice-hearing could be considered as a more common human experience than it is usually thought to be. He then told us that when medical students in Madrid were asked if they were hearing voices, 34% said that they hear voices. I thought that this was a very helpful point to make, as it placed voice-hearing on a spectrum with common human experience. Indeed, Durham University's research team in a recent blog-post – Hearing Voices – estimates that between 5% and 15% of the population has had an occasional voice-hearing experience. Baker also observed that a mental health rehabilitation often focuses on housing and occupation, and neglects interior reasons for moving forward, such as motivation. He added that some people have recovered 'in spite of mental health services'. At this point a mental health worker said that instead of having mental health staff take the lead in a recovery group, it was important to ask voice-hearers 'to work out what the meanings of the voices are'.
This emphasis on exploring the meanings of the voices was a common theme throughout the Congress, particularly in another workshop that was run by Olga Runciman, a voice-hearer, psychiatric nurse working in social psychiatry, and a member of Intervoice's board, and Rachel Waddingham, who is also a voice-hearer and an independent trainer who has experience of facilitating hearing voices groups in the community, in hospitals and in prisons. Rachel explained that they are both looking for a paradigm shift in psychiatry. So, that instead of a mental health professional asking a patient 'what's wrong with you?', they ask 'what's happened to you?' Rachel challenged 'the idea that schizophrenia is meaningless, and the brain disease'. Instead, she argued that difficult life experiences have happened to lots of people, such as trauma, oppression, prejudice and discrimination. Rachel said that 'these truths demand to be heard'. She added that in the Hearing Voices Movement 'the idea that trauma is related to voice-hearing is one of the biggest stories'. In Olga's opinion, this is the case 'because so many of us have a story of the trauma in our life'. The presentation aimed to make sense of this on interpersonal and individual levels.
Rachel explained that 'if people are isolated, many can start to hear voices'. Olga then spoke about how the stress-vulnerability hypothesis is inadequate in terms of understanding the phenomenon of voice-hearing. For it implies that 'if the voice hearer were stronger, then they wouldn't be ill.' Olga said that 'when we introduce meaning, history, context into our life-story, it will also contradict the psychiatric study'. At this point Rachel said that trauma narratives need to be considered, because many voice-hearers have undergone very distressing experiences, that include trauma. Olga nevertheless cautioned that there is a need for mental health professionals to be accepting of a broad range of ways of interpreting voices, and this included taking into account cultural diversity. She gave the example of how a voice-hearer wanting a Shaman to work with them on their voices, could be helped by being given this option. In Olga's opinion, 'Open Dialogue', which is a family and social network approach to first-episode psychosis care, allows voice-hearers to be helped by talking, and looking at their relationships with others, while listening and acknowledging the differences. 'Open Dialogue' is a way of working that has garnered widespread attention for dramatically improving outcomes in Western Lapland in Finland, and is now being developed in NHS settings in the United Kingdom. The results of 'Open Dialogue' show that this way of working reduces hospitalisation, lowers use of medication, and leads to less crises when compared with psychosis treatment as usual.
As someone who lives with voices myself, I was encouraged during the Congress hearing about the development of the Open Dialogue approach in the UK, as this offered a promising intervention for lessening voice-hearers' distress and isolation. It also could help facilitate conversations between voice-hearers and mental health professionals that may help voice-hearers on the pathway to recovery. The rest of the Congress led to interesting conversations with other voice-hearers and mental health workers from all over the world. Next year the World Hearing Voices Congress will be taking place in Paris from 19 – 22 October 2016, and it will be very interesting to hear about what new developments have taken place within the Hearing Voices Movement to help voice-hearers to live well with their voices.
Live tweets from the Congress can be found under the hashtag #HearingVoices7th.