This year, Hearing the Voice was once again asked to take part in Mile End's Shuffle Festival. In part one of a 'two-post special', HtV's creative facilitator Mary Robson writes about her part in the proceedings:
Adam Plus One, the short film that Hearing the Voice made with voice-hearer Adam, was shown at last year's Shuffle Festival, held in the grounds of St Clement's Hospital, built as a workhouse in the mid nineteenth century and closed over a century later as an asylum. Shuffle Festival started as campaigning initiative to help reclaim local space for the local community and is run by a small group of individuals and helped by hundreds of volunteers. This year, HtV was invited to run some Voice Walks. What are Voice Walks? Guided walks in the course of which people encounter voice-hearers and listen to their stories. The notion was pioneered at last year's event and organised by Molly Carroll.
In conversation with voice-hearers, we decided to give this year's event an 'anti-stigma' theme, not least to avoid any idea of Voice Walks being a voyeuristic opportunity. The voice-hearers were in charge of their tales and not exhibits.
This year's venue is Tower Hamlets Cemetery Park  which is overlooked by St Clement's. The site is imbued with references to incarceration and freedom. There is a door from the hospital that leads to a gate in the cemetery fence, through which patients who had died would be carried to their final resting place. The closed has become a wild and overgrown place, home to mature trees and with signs of burgeoning life everywhere. St Clement's is now London's first Community Land Trustoffering permanently affordable houses based on local incomes – there will be green space and hopefully healthier living there.
I made a reconnaissance trip to the park to plan our hour-long walks, guided by the Festival's Science Director, Grace Boyle. I was struck by how powerful it would be to hear voice-hearers freely declaim their stories in the shadow of the institution where their like would have been incarcerated in the past. So the first encounter was sited near that gate, with another four following close by, giving the walkers time for a reflective stroll back through the woodland. (Please read Roz Oates' companion blog post for more detail of the encounters.)
The day before the event was spent writing placards that were placed at each encounter.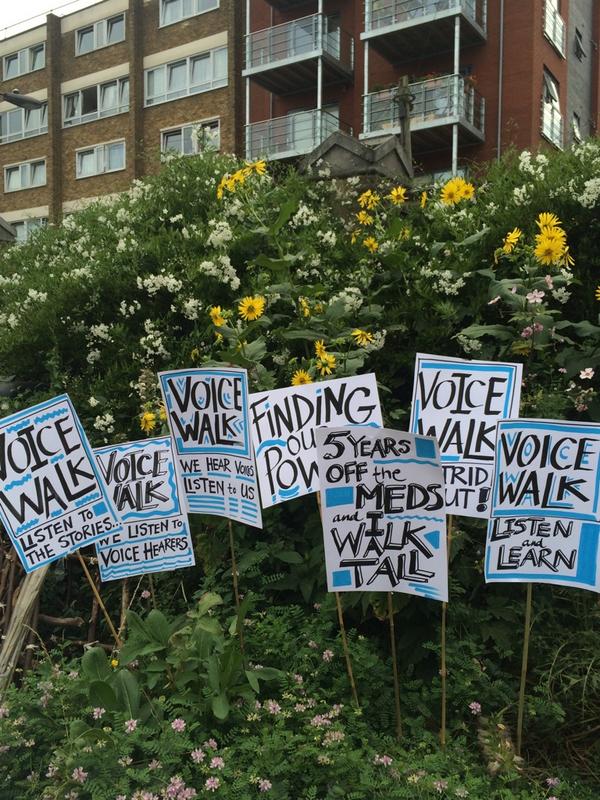 The slogans invited all to listen and potentially rethink their attitudes to voice hearers:
VOICE WALKS: We Listen to Voice Hearers
VOICE WALKS: Lose the Labels, Hear the Stories
Some came from the lived experience of the participants:
DON'T CAGE THE VOICES
5 YEARS OFF THE MEDS AND I WALK TALL
The latter refers to Akathisia, sometimes called the Largactil Shuffle, that is a side- effect of taking anti-psychotic medication.
During the last walk (we ran two), the placards were picked up and carried along, so that by its last stage there was an impromptu march, with voice-hearers, walkers, researchers et al walking and talking together. People who came on the walk commented that "It was overwhelming, fascinating and moving"… "Inspiring stuff – remember these stories . . . "
The walkers were invited to each write a self-addressed postcard detailing their thoughts and reactions and leave it with us. We will be posting them in a few weeks' time to prompt memories of the afternoon they spent listening to and coming to some understanding of tales of extraordinary experiences.
I spent the afternoon running an information table near the main entrance to the park, telling anyone who was showed an interest about the project and the walks. A security man told me about his nephew's experience of schizophrenia, and his colleague revealed that he had been given a diagnosis in 2010 and was coping very well 'on the meds'. My early misgivings about voice hearers being 'put on show' in some way were unfounded. This kind of event can help make the invisible visible, and encourage attitudinal change along the way.
It also made apparent the serious attention Hearing the Voice pays to forging meaningful, two-way relationships with voice hearers.   Nothing made this more clear than when one of the voice-hearers, Rai Waddingham , posted the following on Twitter: